Sign Up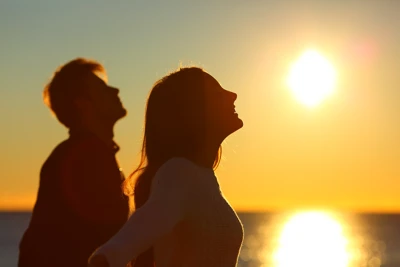 See What Our Members Are Saying:
"Thanks to dharmaMatch we are very happily married and will be coming up on our two year anniversary in August!!" -Daniel D
"My WIFE and I want to thank you for bringing us together. Over 3 years ago we met on dharmaMatch, and we just got married August 18. We are grateful to you for providing a format that appealed to us both, and we truly did meet over spiritual connection .. and a similar sense of humor ;-)" -Michael
"I'd like to thank dharmaMatch.com. It's very important for spiritual people to have this opportunity to meet a person with similar values. I met my husband here and now we are happily married for 2 years. Other dating sites didn't work for us that well due to the specific values we wanted to find in our match." -Julia M
"I just want to say thank you for creating this website. The man of my life found me on this website. The questions that you've created on the website really helped us get to know each other." -Meng C
"We both were losing all hope of finding our match, and then we fell into each others' laps so easily. We are deeply grateful to you for providing the perfect window for us to finally meet!! Going on our first little mountain hot spring getaway in 2 days! Blessings to you all! Joy and Peace." -Susan P
"This has to be the most meaningful dating site around." -Steve C
"I found your approach fresh and worthwhile as a way to spotlight spiritually oriented people in order for them to find connection." -Michael R
dharmaMatch® is a refuge from mega dating sites & apps, inspired by the Eastern spirituality notions of dharma and karma. Launched in 2004, dharmaMatch is one of the longest running spiritual dating platforms, with active members in over 60 countries worldwide. While we welcome all spiritual orientations, many of our members identify as Buddhist, Hindu, or Yogi.
dharmaMatch is consistently
ranked among the top 5 spiritual dating platforms
online today and is regularly featured in publications such as
Tricycle
and
Lion's Roar
.
dharmaMatch is unique among dating platforms in its mission to Be Good. Meet Good. Do Good.®, committing to doing right by our members and donating a portion of annual proceeds to charitable causes. Can other dating platforms say the same?
What if your dating platform could be:
JUST FOR YOU

Meet others who value spirituality and are on a spiritual path, just like yourself.

SAFE

We screen new accounts for signs of a fake profile and delete them before they can interact with you. We continue to monitor accounts after registration & investigate all reports of suspicious behavior to keep our platform safe for all.

AD AND THIRD-PARTY TRACKING FREE

There are no ads or 3rd-party tracking within our dating platform.

$0 TO GET STARTED

Create a profile, upload up to 10 photos, send other members a smile, reply to any message sent to you - all for FREE. Upgrade to a Gold Membership to initiate messages to others.
See how online dating can be better at dharmaMatch.